" Fantastic " - Jools Holland
0131 226 0000.
or online.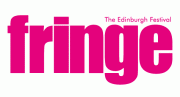 Mobile
7 Inch vinyl single limited edtion of 250 £10
Celebrating the Nailing together of the Radiocaster.
Available at the Fringe gigs or email johnhuntgallery@yahoo.co.uk.
payment by Paypal or bank transfer.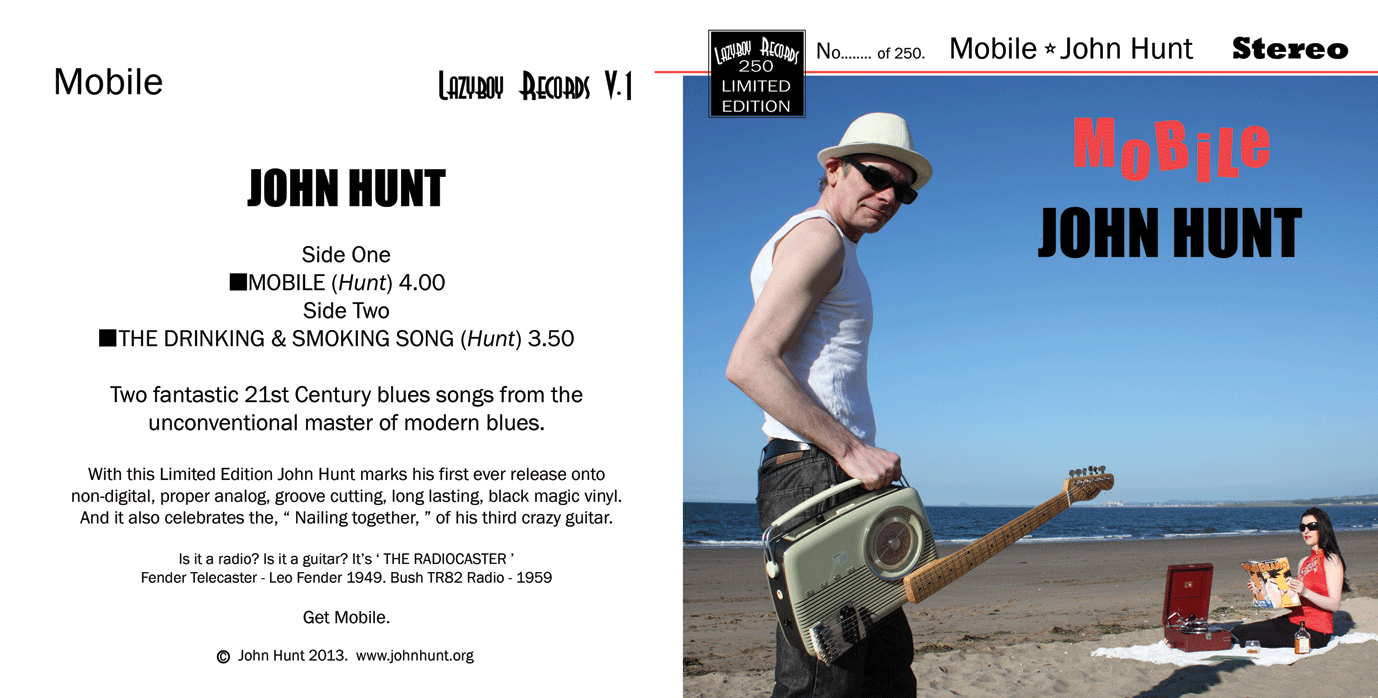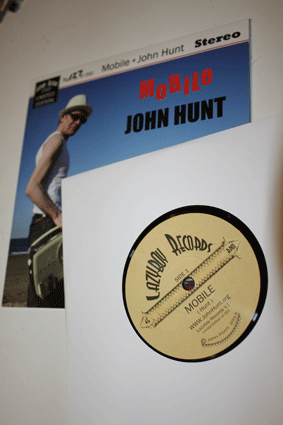 LIVE AT THE EDINBURGH FRINGE CD & FREE DVD £10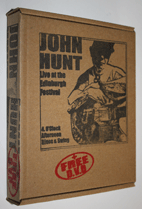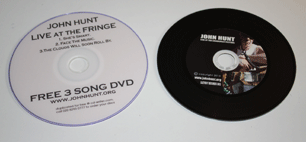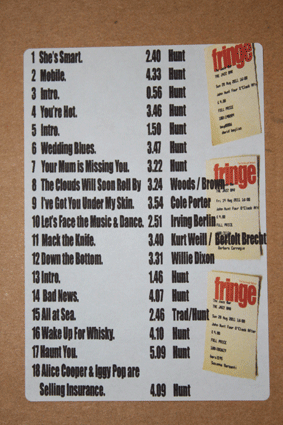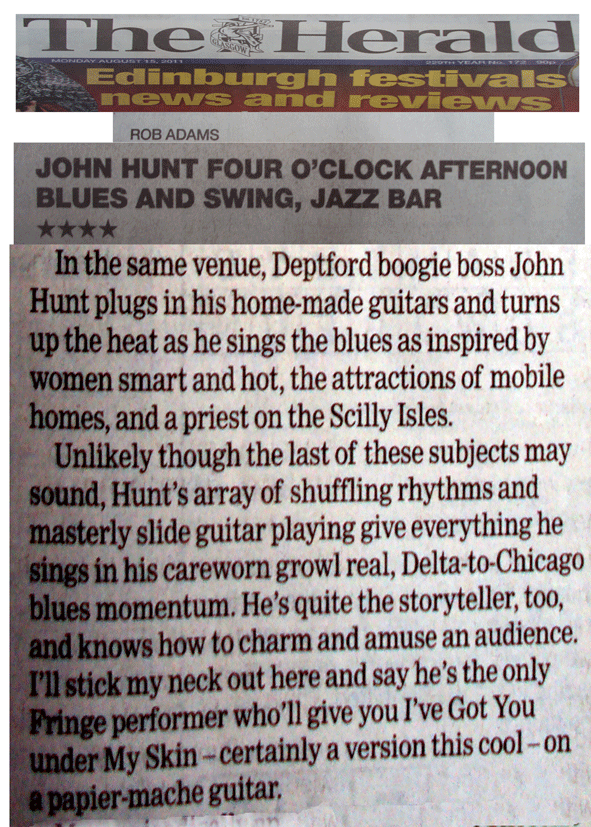 John Hunt - Press Release.
Edinburgh Fringe 2018
John Hunt; Four O'Clock Afternoon Blues & Swing
at The Jazz Bar.
Returning from seven years of full-house runs.
A breath of fresh air for blues, John not only writes his '21st Century up-blues' songs, he also built his guitars. The first in 1986 from papier-mache, his second in 2008 from a B&Q shelf, which turned out to be the World's first solar powered electric guitar. In 2013 he built the Radiocaster.
'John Hunt is a master of the blues slide guitar. His style isn't overtly slick, nor is it tacky as the kind of blues you might associate with certain American beer brands.' **** Edinburgh Evening News/Scotsman-Barry Gordon
John Hunt has moved around in pursuit of inspiration. He spent five years living in a shed on the Isles of Scilly and a similar time in Orkney. He has emerged from the mud of the River Thames at Deptford into a true blues legend.
'John Hunt played a storming blues set, like Seasick Steve in a science Lab, brilliant.' - Ian Rankin.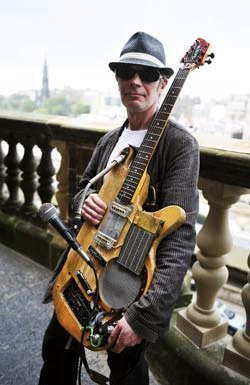 'His homemade guitars have emerged from stuff that's been lying around, like the pile of Melody Makers, the former music industry bible that went into building his famous papier-mache semi acoustic guitar, or the solar panel that forms the battery charging scratch-plate on his latest model that has a built-in PA system and microphone. The Deptford Boogie Boss' **** The Herald - Rob Adams.
You can forget 'I woke up this morning my dog was dead' kind of blues, John brings a playful sence of humour to his finger-picking blues. - 'Hunt launches into a gritty number about a priest, who bribed by the offer of cheese and beer, tried to baptise him on the Scilly Isles. But if that wasn't bizarre enough, there's also a boogie-woogie nod to Milton Keynes as well as a funky version of Cole Porter's ' I've got you under my skin'. - Barry Gordon - Edinburgh Evening News/Scotsman.
Influenced by Lightnin' Hopkins & John Lee Hooker, John Hunt swings easily into Cole Porter and Sinatra with fresh bluesy arrangements uncommon for just guitar and vocal, showing us that Willie Dixon was right when he said, ' The blues is the roots and the rest is fruits'.
' Insane but ingenious.' **** Three Weeks.
' A mad, wandering blues genius. It doesn't take long for the audience to be completely enthralled by the personality of this mysterious blues man.
I dare say that there is no more inventive, unique and soulful performer of the blues at the Fringe.
For even passing fans of the blues, John Hunt is a necessary addition to the schedule.
**** BraodwayBaby.
TITLE - John Hunt. Four O'Clock Afternoon Blues & Swing.
VENUE 57. The Jazz Bar. 1a Chambers St. Edinburgh.
TICKETS. £10 / 8 . From the Fringe Box Office 0131 226 0000
PRESS CONTACT NUMBER 07790 782 894 John is based in Edinburgh.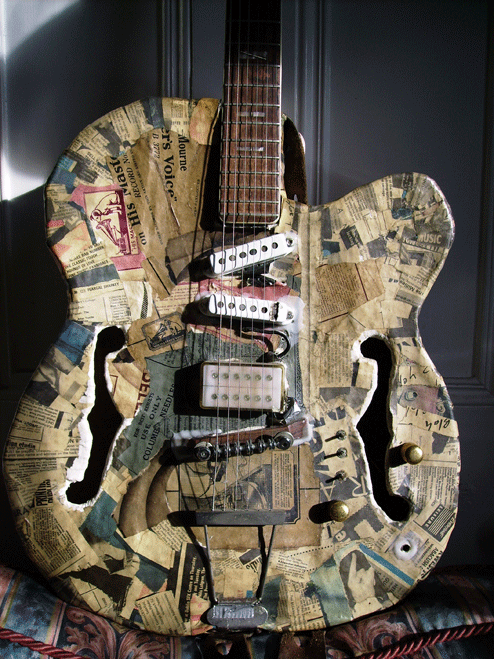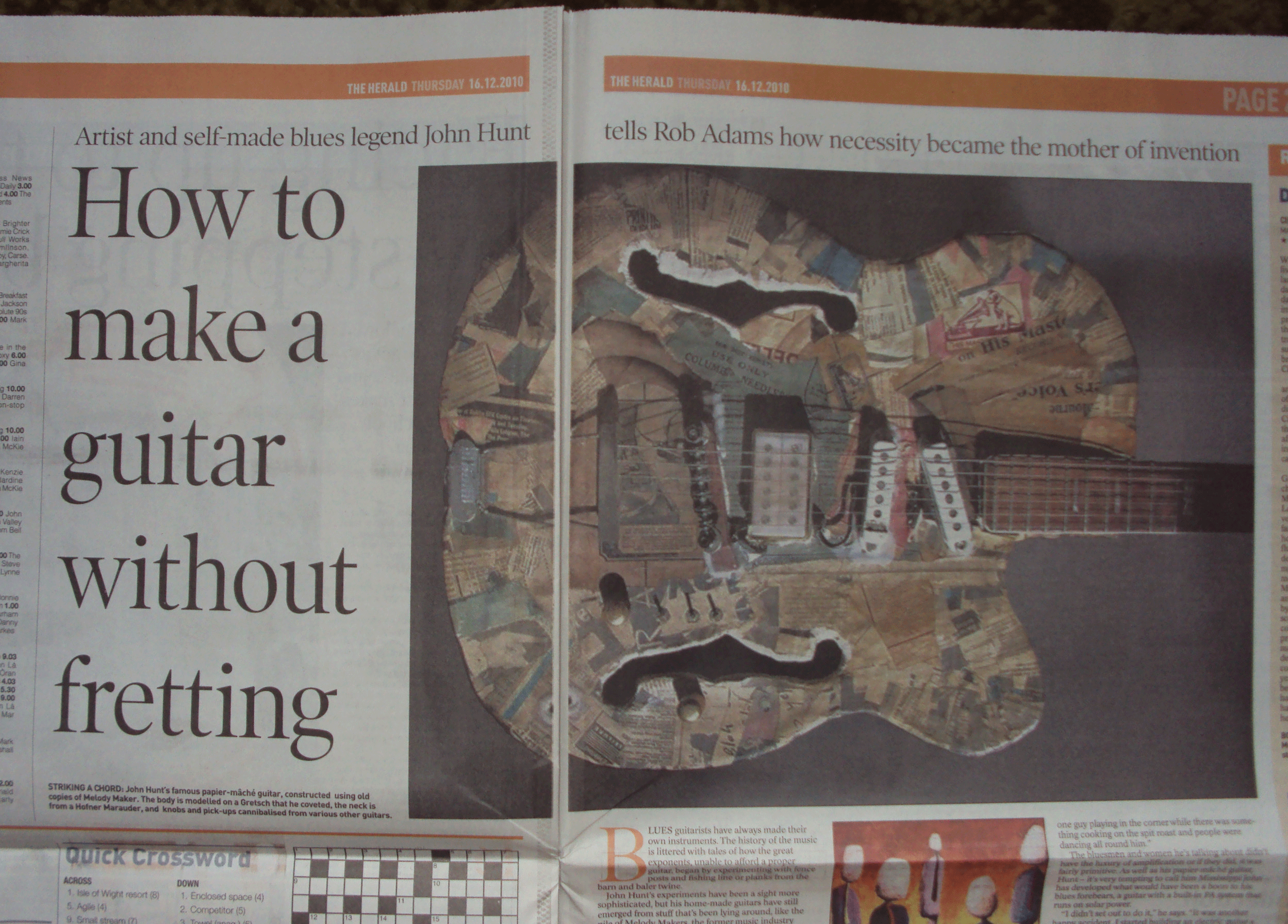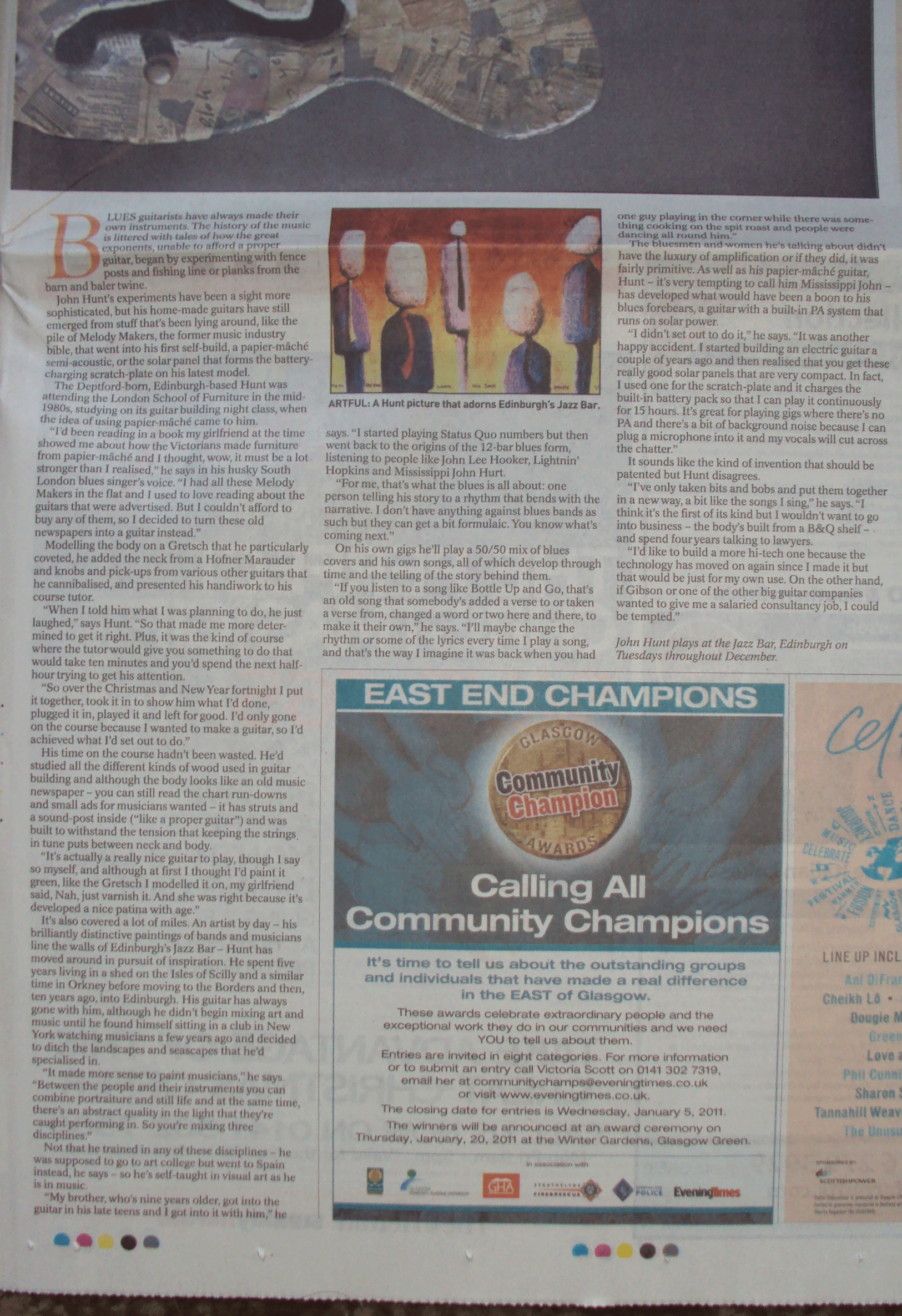 Wednesday, 17 August, 2011
A great singer-songwriter in virtuoso performance
Edinburgh '11-The Jazz Bar – Chambers Street- 12-17 Aug at 16:00
John Hunt is a consummate musician in his element at the Jazz Bar. His witty repartit is delivered in a laid back, quiet, conversational manner, between songs and his relationship with the audience is strong. He plays for a full hour, choosing from his entertainingly introduced yellow paper list, a Lucky Dip programme of songs, from the hundred or so available to him, at the drop of his well worn hat.
" She's too Damn Smart " was first out of the bag, a traditional sounding Blues Song, introducing us to his excellent voice. He has a strange guitar in his hands, cobbled together on a board with microphone attachments, switches, a fret board, metal strings and what looks like the inside of an old speaker at the back. The microphone arrangement means he has the microphone in the right place for his mouth at all times while his personalised, miked instrument is being made to sing in his hands.
He followed up with a much faster song, " You've Gotta Make your Move", before introducing us to the notion of the " choose as you go " programme and his gentle sense of humour, which pervades his songs as well as his exchanges with the audience. This is a confident, talented singer-song writer, independent and funny.
" You're Hot! Hotter than the blazing sun " he sings while beating out the rhythm on the table-top perch below his feet. He is now playing slide guitar, skilfully bending notes, following that with " Mobile Home", from the list, using a very different almost Steel Guitar sound. He creates surprisingly full, warm deep sounds on the lower strings while dancing notes ring out in the higher registers. He plays a rolling rhythm while singing surprisingly romantic lyrics in a warm register which contrasts completely with the rougher edged blues sound he produced earlier. He informs the audience the gig is being recorded and encourages them to make noises if they'd like to feature loudly enough to be heard on the finished product. By now they all laugh because the atmosphere John Hunt creates is charged with warmth.
He tells the story of his uncle, who got married at the age of seventy-three to the woman with whom he had lived for thirty years, then sings the song written for the occasion, " Woo-woo-woman After Me ". It is chase music using blues slide guitar to great effect. Like all his songs, it allows for personal dreaming while being fully present in the room listening to a man share his poetry in melody and rhythms which move the soul.
His Silly Isles story is beautiful, creating splendid images of a Johnny Cash like "Man in Black" appearing in the distance, where least expected, walking towards him and offering cheese and beer. The man turns out to be a priest and the resultant song is " Bad News " which begins with Hawaiian Island Sounds on guitar before it drops into a driving blues holding the " Yer goin' to Hell" lyric in perfect balance. Smiles appeared on faces as he sang " If you're lookin' for religion, you'd better look within. You gotta pardon yourself..from Original Sin…that's Bad News..Bad News.."
He then shifted the pace and style by singing a Frank Sinatra number to great effect. " Got You Under My Skin" was sung in deep throated notes with splendid chest sound, using a guitar covered in newspaper to create a rhythmic accompaniment which allowed the song to shine through, It was a standard, being given fresh life by a man with a great distinctive bluesy voice capable of conveying many levels of feeling.
With humourous ease he moved style again to play "Chicken Music" in simple upbeat strumming while his fingers ran lightly up and down the fret board creating a complex combination of notes to illustrate " I'm the Road-runner Darlin'" before moving into walking guitar style, bending notes like honey in the air. John Hunt writes wonderful story telling songs, creates very full sounds of many kinds on the guitar which sounds more like an orchestra in his hands.
In " Haunt You " he creates bell-like sounds to illustrate " I've been floatin' around….Haunt You..Ain't gonna give you no rest" Then both pickin' and slidin' creates a change of atmosphere into sounds more like heavy rock grunge before singing about " Insurance Salesmen ". This song is about ex-musicians Iggy Pop and Alice Cooper selling insurance. Here John Hunt once more uses Blues Slide guitar to great effect during " It don't matter about your ability, you've sold your credibility. Alice Cooper and Iggy Pop sellin' insurance…Rock is on the Rocks! You Sold Out !"
He finished in tight time, leaving everyone wishing it was just the interval before another hour of virtuousity.
www,johnhunt.org/festival.html
(c) Lilian Kennedy Brzoska 2011
reviewed Friday 12th August 11/ Jazz Bar, Chambers Street — Edinburgh UK
Fringe Report ( c ) Fringe Report 2002 – 2011
click for more press stuff and albums.